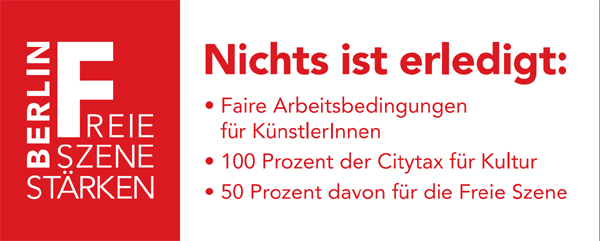 Offener Brief der Berliner Kunst zur Abgeordnetenhauswahl 2016 vom 14. September 2016
UPCOMING
ORANGE
Mixed media installation by Isabel Ribeiro and Ângelo Ferreira de Sousa
Opening: September 30, 7 pm
October 1 – October 15 2016
Fr & Sat 2 – 6 pm
O título "orange" faz referência à cor dos uniformes prisionais usados nos Estados Unidos (sobretudo em Guantanamo), das túnicas das vítimas do Daech (dito "estado islâmico") e dos coletes "salva-vidas" dos refugiados que atravessam, quotidianamente, o Mediterrâneo. A estranha recorrência desta cor, como um indício de um crime, como uma voz de oráculo, é o ponto de partida da exposição.
"Laranja é a cor do tempo."
The exhibition's title refers to the color of the prison uniforms in the United States (especially in Guantanamo), on the hostage-clothes of the victims of Daesh and the "life jackets" of refugees crossing the Mediterranean every day.
"Orange is the color of our time."
ISABEL RIBEIRO
Covilhã, Portugal, 1976, lives and works between Porto and Lisbon.
The artist, who started exhibiting in 2001, is interested in the diversity of anxieties generated in modernity that have to do with a failure of the individual with his environment: the individual and the collective crisis, the conflict between the individual and the social, transformations of space, forces of change, the constant failure of the movements that advocate change, the loneliness of the fight, dilemmas and the longevity of the community, unemployment, loneliness and tedium. Isabel Ribeiro is also connected to the foundation of Salão Olímpico and Projecto Apêndice, two of the artist-run spaces that arouse in Porto, in the last years.
ÂNGELO FERREIRA DE SOUSA
Porto, Portugal, 1975, lives and works between Paris, Barcelona and Porto.
During and after his studies in Fine Arts, he got involved in various actions, exhibitions, site-specific projects, videos and performances, most of the time with a socio-politic (or poetic-politic?) spirit and following these mainlines: direct action, visual poetry and technical reproduction, which make easier large scale public interventions. Performances in public space (often filmed with hidden camera), collaborative projects with other artists, chalk drawings, etc. Fast and ephemeral actions that create a space where the artistic and the politic are part of the same mechanism of production and circulation.
The artist co-founded Caldeira 213, an artist-run space in Porto. He was also artist in residence at Hangar (Barcelona), Triangle (Marseille), Duende Studios (Rotterdam) and The Window (Paris).
UPCOMING
Caught in the influence from Joseph Albers to Cecilia Vicuña,
Opening: October 28, 7 pm
Cooperation project with Kandor13 (New York) and the Berlin project spaces "rosalux" and "OKK"
Artists: Alejandro Almanza Pereda, Mexico / Javier Arce, Spain / Balam Bartolome, Mexico /Catherine Czacki, USA / Brock Enright, USA / Daria Irincheeva, Russia, USA / Andrea Galvani, Italy, Mexico, USA / Pablo Jansana, Chile, USA / Santiago Reyes Villaveces, Colombia, London / Angelica Teuta, Colombia / Cecilia Vicuña, Chile, USA / Cecilia Mayobre, Venezuela, USA/ Lars Laumann, Norway / Felix Lazo, Chile
The Act of Painting (Being the Universe)
Guest curator: Raymond Cuijpers
Opening: November 25, 7 pm
Artists: Charlotte Warsen (D), Marie van Vollenhoven (NL), André Kruysen (NL), Jeroen Hofhuizen (NL), Raymond Cuijpers (NL)